Fun Indoor Winter Activities With Friends in NJ
Winter is in full swing. This time of the year the weather makes it difficult to find places to go to or things to do with friends. You might think there's not much to do indoors other than binging on a show, but, fortunately, that's not true. If you are looking for fun things to do with friends, our team at The Other Tales compiled a list of great indoor activities all around New Jersey.
Scale a wall indoors
Indoor Rock Climbing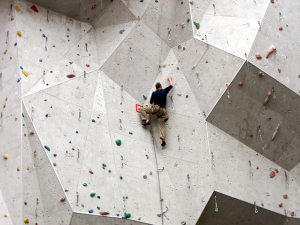 Want some exercise while also having fun indoors? No, not a hike, but rock climbing! There are many gyms with rock walls, or some gyms specifically dedicated to rock climbing. This is a great way to have fun indoors safely while also working on your beach body for next summer! There are easy courses for beginners and more difficult ones for more experienced climbers. Gravity Vault is a rock climbing gym in New Jersey that's open and accessible to all.
Skate with your friends
Indoor Ice Skating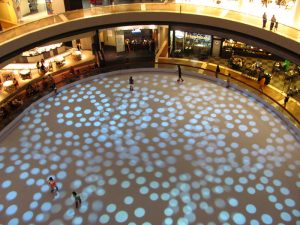 Yes, it's cold outside, but it can also be cold inside too! Ice skating is a really fun indoor activity that everyone can get in on. Gliding around on the ice with friends and family is a great opportunity to get some exercise while also getting out of the house. You don't have to be good at ice skating to still have fun with friends! Public skating is available at a lot of large rinks, but make sure to check before you go. Check out Montclair State Arena's public programs, they usually have public skate time available during a weekend.
Solve puzzles indoors, with your friends
Escape Rooms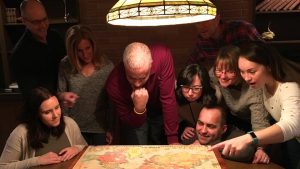 If you're looking for something that works the brain rather than the body, escape rooms might be the perfect option when you're looking for things to do with friends. At their core the escape rooms are about solving puzzles together. It's a great interactive experience where no outside knowledge is needed to succeed. Escape rooms often have unique themes, puzzles and some have stories. A team enters a game and can interact with everything inside, while looking for clues and solving puzzles. Some escape rooms have the main goal of escaping, while more and more games have other goals for the games, such as finding some mysterious object, or even saving the world. No escape room is just like another so you are guaranteed a new experience every single time you do one.
Our escape room center is in Hawthorne, NJ. We do all game design and production in house, so our experiences are truly unique and original. If you are looking for a fun thing to do in northern New Jersey, come visit The Other Tales Escape Rooms.
Catch some air while staying indoors
Trampoline Park
Another great indoor destination is a trampoline park. SkyZone is a perfect place to visit! Filled wall-to-wall with trampolines, it can provide hours of jumping fun for people of (almost) all ages.
Fly through the air, indoors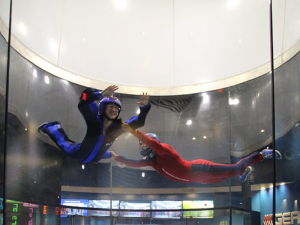 Skydiving scares most of us. The idea of jumping out of a plane, plummeting towards the ground at high speeds, with only a parachute strapped to your back? It sounds terrifying. If you've wanted to try skydiving, or experience flight, then indoor skydiving at a place like iFLY is the place for you! Experienced instructors, safety guides, safety gear, and more are provided. You can experience skydiving without having to go up in a plane and jump! When you're looking for fun things to do with friends, why not give indoor skydiving a try?
Explore the world's wonders with your family
Liberty Science Center
Looking for something with less adrenaline? The Liberty Science Center in Jersey City, New Jersey is a perfect place to go with friends or family! With hands-on scientific exhibits, informative IMAX movies, and a planetarium, you can easily spend the whole day there and keep finding things to do. The exhibits at the LSC are constantly changing; some are geared towards younger audiences such as the Thomas & Friends: Explore the Rails, while some are more for all ages, including the Pompeii – The Immortal City exhibit. The LSC also has adult only events and fun lectures. If you're looking for things to do with friends, the Liberty Science Center is a great place to spend a day!
Have fun putting around indoors
Mini Golf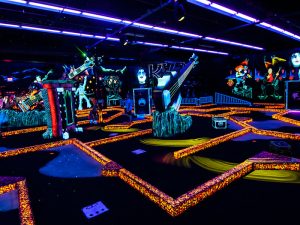 Mini Golf is a great activity to get your friends and family out of the house. Mini golf is fun for all ages, and is a great family bonding experience. There is a great monster-themed mini golf in Paramus, NJ – Monster Mini Golf. The entire course is under blacklight and it makes the game that much more fun and challenging! This place is definitely chock full of fun family activities!
Drop some quarters into a game
Video Game Arcade
Video games are extremely popular today, with consoles being one of the top selling items each year. Video games are easily accessible at home–but remember arcades? Weren't they fun? If you crave a bit of nostalgia or want to show your kids some of your old tricks, go to an old style arcade. Billy's Midway is in Hawthorne, NJ. It has over 100 games on the floor, including classics such as Pac-Man, Galaga, Tetris, Space Invaders, Donkey Kong, and more.
Video game arcades are a great way to spend a couple of hours with family or friends!
---
When it's cold outside, and you are looking for something fun to do with friends there are plenty of options. These suggestions are great as fun family activities as well. Hopefully, as the weather stays cold, you'll never have to wonder what to do with friends!