Improve team building with 5 different types of escape room games
Escape rooms are great team building activities. Escape room games are all about problem-solving, observation, and collaboration. Good escape rooms require no outside knowledge – all the information you need is within the room itself, which levels the playing field for everyone involved. Ever since the rise of popularity of the real-life escape room games many teams experienced the positive energy these games bring to their team. However, playing a real-life escape room is not the only way to introduce escape rooms to your next team building event. In this article we'll talk about many different ways you can have escape room team building that will work for a variety of budgets.
This article covers: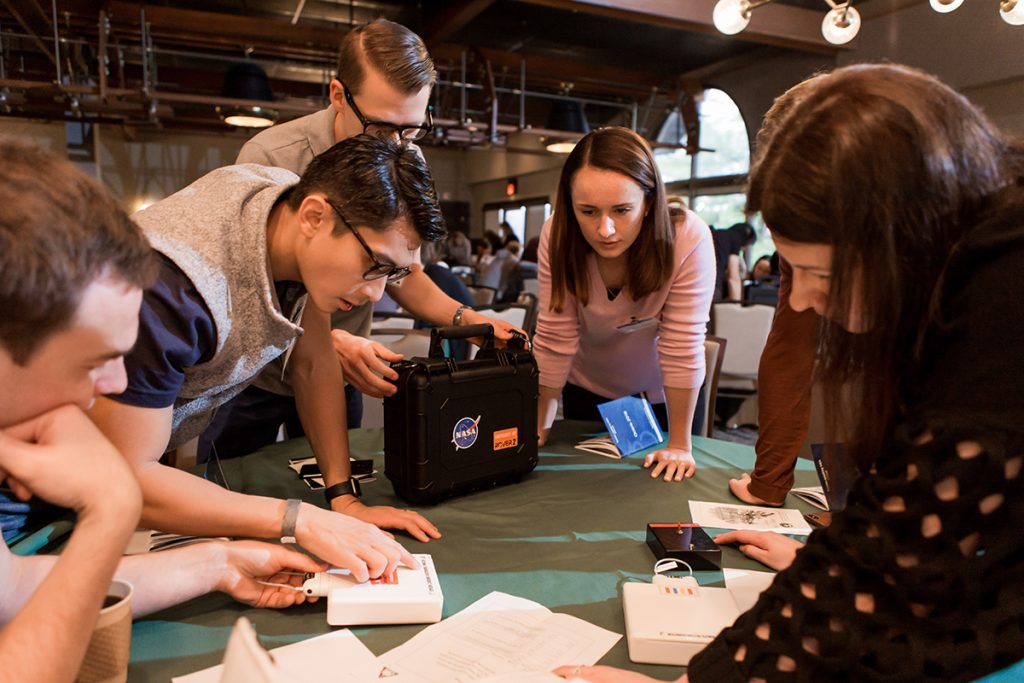 Team building with escape room board games
One cost-efficient, but no less fun, way to have an escape room team building is to play an escape room board game or a card game. Depending on the size of your team, you may want to prepare several games and divide people into smaller teams.
How to structure an escape room board games team building
Select a theme
Select a type of escape room board game
Decide on the size of smaller teams
Provide enough space, so teams won't interfere with each other
Themes
Nowadays there are many themes to select from when choosing an escape room board game:
adventure, science fiction, mystery, mystical adventures, pirates, circus, space exploration, and many more. We recommend not selecting the escape room board game solely based on the theme, but taking into account the number of players recommended, the difficulty level of the game and the projected time it will take to complete it. The best escape room board games for team building have solid gameplay, are designed with multiple participants in mind, and are not too difficult. Below we list some of the best games for team building based on our experience.
Types of escape room board games
Are escape room board games replayable?
The short answer to this question is "No". However, there are some games that can be replayed by a different team.
Not Replayable
Most of the escape room board games are not replayable by the same team, because once the team solves all the puzzles everybody knows all the solutions. Sometimes different parts of the game might be destroyed during the game (cut, folded, drawn on, etc.). Even if you select not replayable games for your team building, it's OK, the team will have a great time at a fraction of the price of going to a real-life escape room.
Replayable
Sometimes you can be careful with the escape room board games and can reuse them. Some games are designed in such a way that they can be replayed by other teams, because the materials of the game are not being damaged. Oftentimes, escape room card games tend to be replayable. Purchasing replayable games might be useful if you are thinking of hosting multiple events – you can rotate the games between the teams and save some team building budget.
Size of the teams
For escape room board games team building events it's important to split the players into smaller teams. The ideal size for playing an escape room board or card game is 4 to 6 people per small team. If you have more people, it's better to split up into groups of 4 to 6 people. You don't want very large teams, because you want everyone to be able to actively participate in the game.
Having small teams playing all at the same time adds a friendly competition element into otherwise a very collaborative event. If you want, you can crank up the competition by adding additional awards for the teams: first to solve the game, team award for using no hints, only one hint used, etc. However, be aware that the competitive game will work only if all the teams play the same game. Escape room board games might vary widely in difficulty even when they belong to the same series.
Make sure that each team has a table to sit at and that the tables are positioned far enough from each other, so teams' discussions won't interfere. Then, you need to provide each small team with a board game to play. You can have each team complete exactly the same game, or you can buy several different games. For different games, it's important to make sure that the length of the games is about the same.
List of great escape room board games for team building
Exit: The Game. Escape Room series
Team size: 2 to 4. Playable only once. Time: 60 to 120 minutes. Price: $12 to $15 per game.
Exit: The Game is a series of "escape rooms in a box" games. Each game comes with a cipher answer wheel, a story book or picture, and a variety of clues.
It's best to play with up to 4 people per small team. Playable only once, because players markup, fold and tear the game materials.
The great thing about Exit: The Game series, is that there are a lot of themes to select from.
For the first time players we recommend the following games from the series:
Four games: The Haunted Roller coaster, The Sunken Treasure, The Mysterious Museum, and The House of Riddles.
Exit: The Game, Beginner Bundle.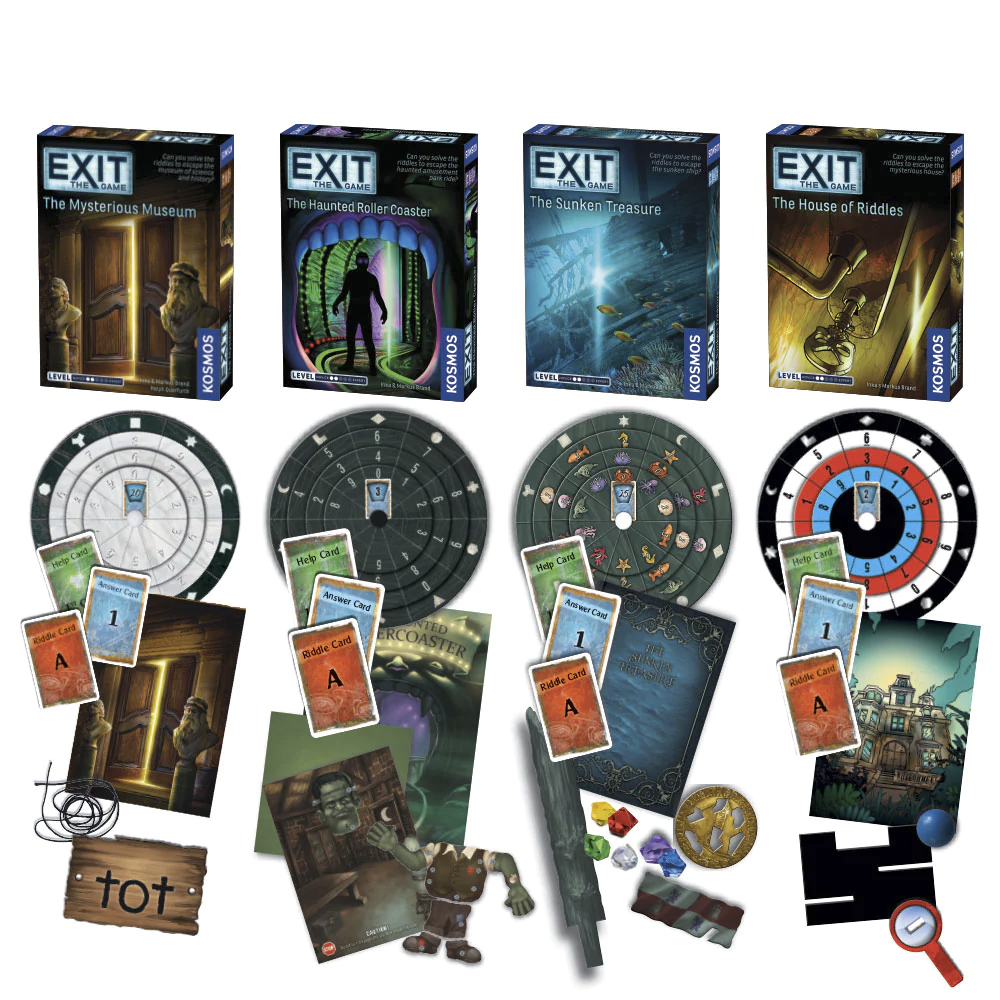 You can view all of the available games at the publisher's Thames & Kosmos website. Pay attention to the difficulty of the games you select. If it is your first team building with escape room board games, select the games with the difficulty level (marked on the game's box) no higher than 3 out of 5.
Deckscape series
Team size: 2 to 4. Replayable. Time: 60 minutes. Price: $12 to $16 per game.
Deckscape is a card game. The cards are not destroyed during the game. After one team plays it, the game can be reassembled and played by another team during another team building event. These games are said to be up to 6 players, we recommend up to 4 players per team.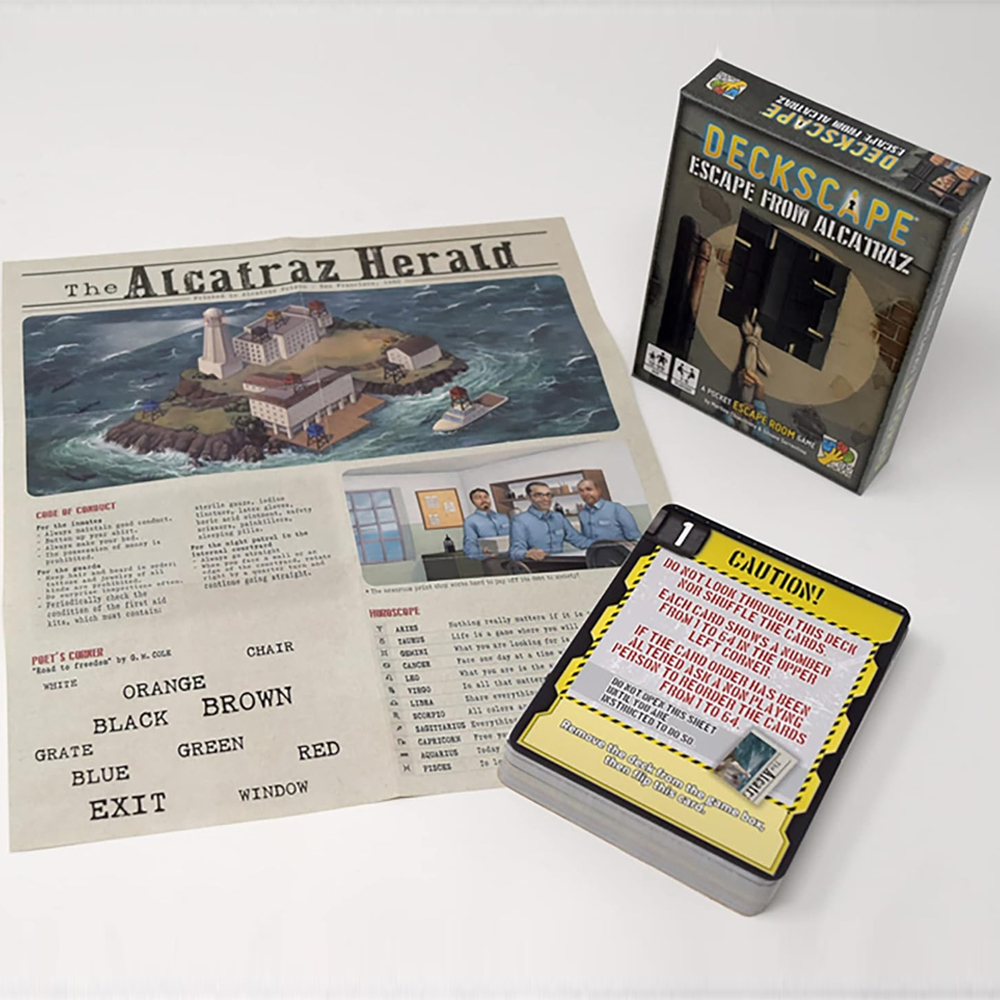 There are 13 games to select from. Our favorites for team building are:
Deckscape: Escape from Alcatraz
Escape Room The Game series
Team size: 3 to 5. Partially Replayable with expansions. Time: 60 minutes. Price: $39 per one game box with 4 adventures.
Escape Room The Game, Version 2 is an updated original game. It contains 4 adventures, physical components and a Chrono Decoder. The Chrono Decoder is an interactive system for checking answers and keeping a timer. Because of the physical elements, the adventures in one game have to be played one after another. To play several games at the same time, you need to buy multiple original sets. Good news is that there are many expansion packs for this game with many varying themes. Once you have one or several original sets, you can just keep on buying the expansions for a fraction of a price and continue to have different adventures during your team building events.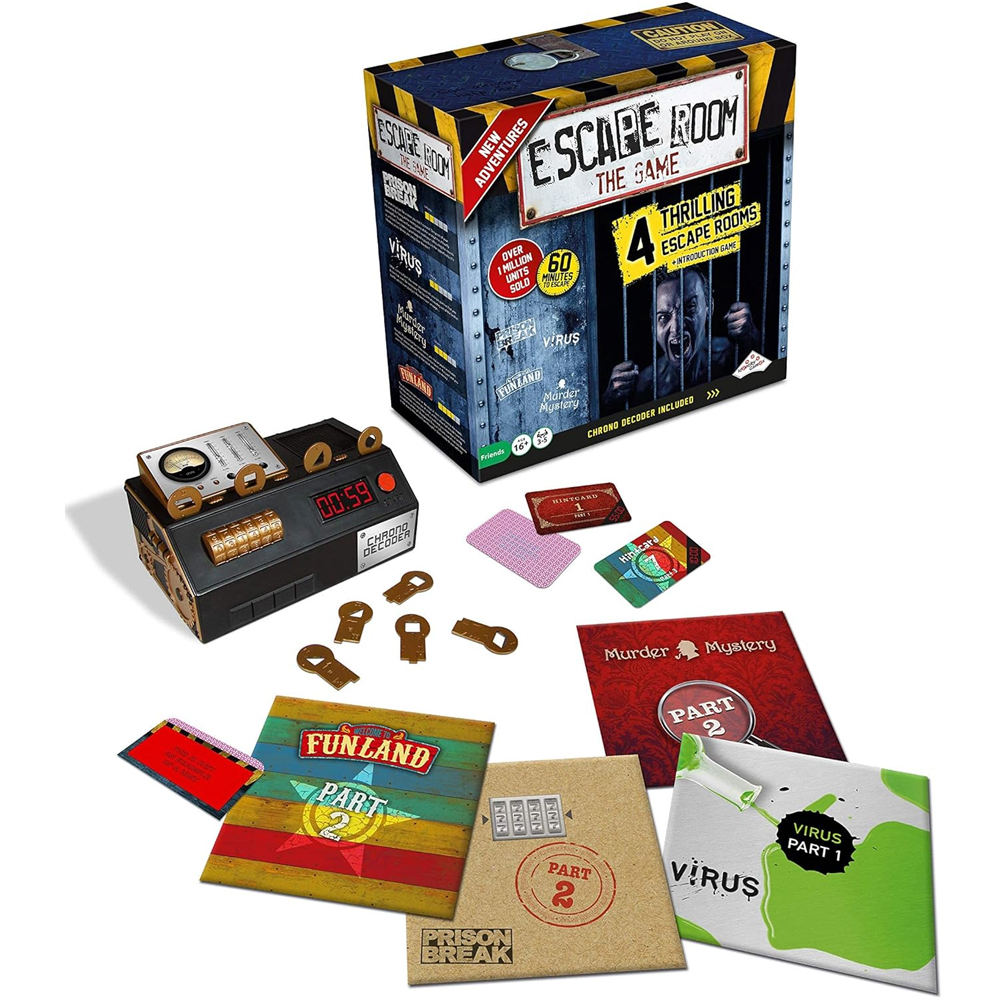 During your team building event decide on playing one or the maximum of two of these adventures at a time. In general, all of these adventures are great, but they are all on a bit of a more challenging side.
In some scenarios components can be destroyed, however the company provides replacements or a way to print out the needed components. Teams can rotate playing the scenarios.
ThinkFun Escape The Room series
Team size: 4 to 6. Replayable. Time: 90 minutes. Price: $18 to $20 per game.
There are several adventures to choose from. However, for team building, we suggest selecting from the following:
Mystery at the Stargazer's Manor
Secret of Dr. Gravely's Retreat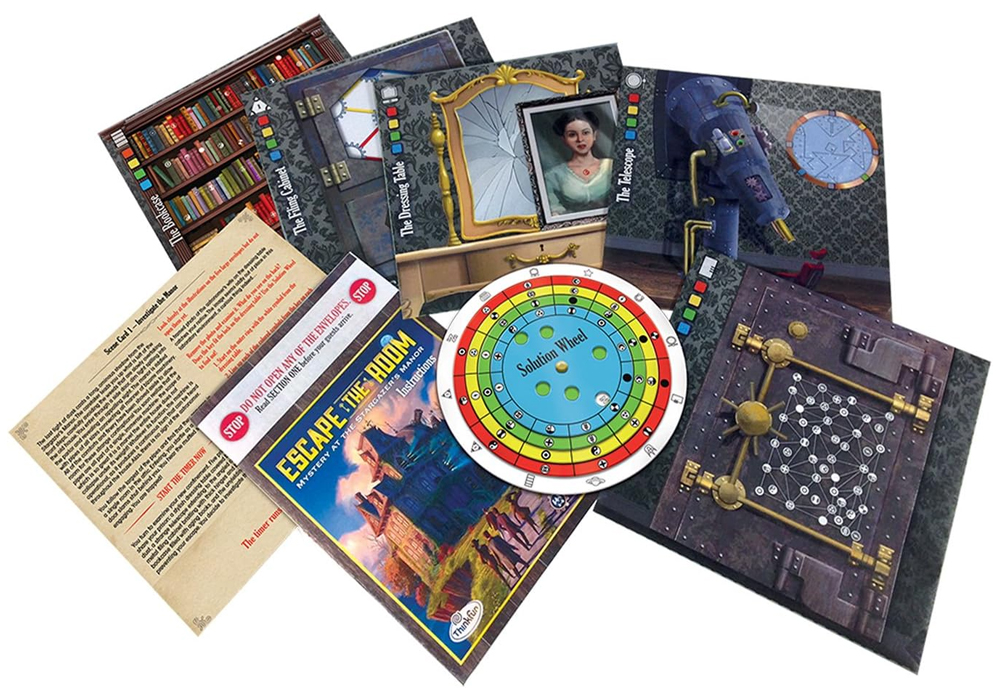 Both games are easy to set up, and have great puzzles with physical components. You can reassemble the game components after playing. ThinkFun's website has directions on how to do it. Then other teams can play the games during the next team building event.
Escape Room in a Box series
Team size: 4 to 6. Replayable. Time: 60 to 90 minutes. Price: $18 to $20 per game.
The games include physical components, and fun escape room like surprises. It overall feels like you are playing a miniature version of a real life escape room game. The difficulty of the games is well balanced. The puzzles are easy to get into, making these games a good candidate for the team building event.
Now have fun with escape room board games
Once you select the games for your team building event, make sure each small team has a table where a game can be played. Start the timer and let the fun team building event begin.
If you want to learn about other types of escape games for your next escape room team building, read on.
Team building with printable escape rooms & escape room kits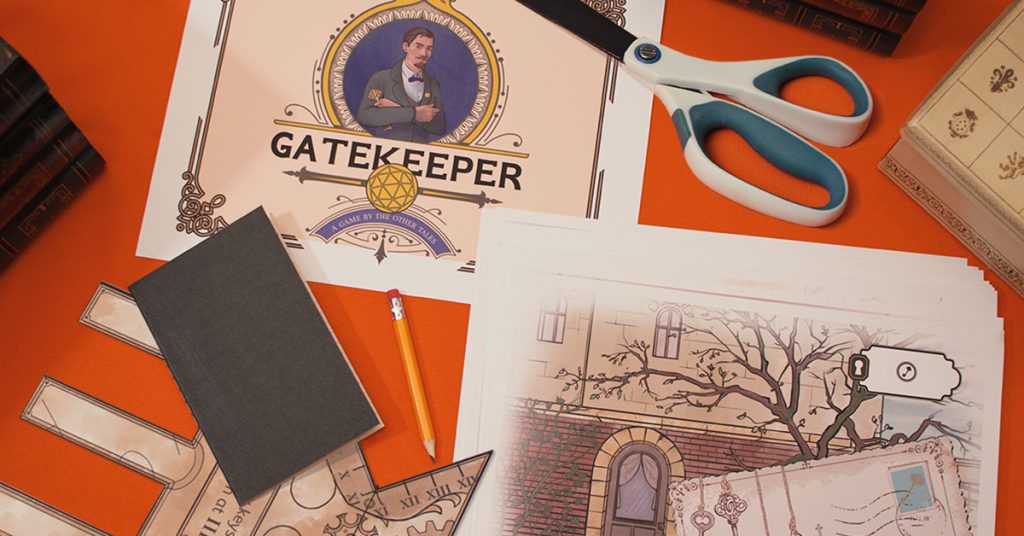 A great option if you want to add a twist to your in office team building event is to use a printable escape room game. These are usually very fast to set up, not expensive, and relatively short. They can work great as an ice breaker activity at the beginning of the event.
There are several games which you can buy, download and play right away. Some games might have an online component, or a short set up. Depending on the size of your team, you might want to split up into groups of up to 6 people when playing printable escape room games. It's best that each team of up to 6 players gathers around a table when playing.
If you have multiple teams make sure that the tables are not too close to each other, so the teams don't interfere with each other.
List of printable escape room games
Best for teams 3 to 6 people.
Gatekeeper is a great story-driven printable escape game. The setting is a Victorian house full of secrets and puzzles. Once you purchase one game, you can make as many copies as you need for your teams (each team needs one copy of the game). Gatekeeper is best printed in color. You will need scissors for one of the puzzles. The way the game is set up, everybody on the team can play, you don't need to dedicate one person to be a facilitator.
If you want to try the types of puzzles that Gatekeeper has to offer, Printable Escapes has a free demo game on their website.
Best for teams of 2 to 4 people.
Escape Team has several printable escape room missions. They are tied to an app. The first mission is free, so you can give it a try. Since you do need an app to play, you will need one person on each team to install the app.
Best for teams up to 4 people.
Murder Mystery Envy
This is a 1920's Gastby style murder mystery game. All the puzzles are paper based. Print several versions to have small teams of 4 play this game.
Best for teams of 2 to 4 people.
Printable games by ClueQuest are slightly longer, however if your event can be closer to 2 hours, they can be a great option. You need access to the computer to play.
ClueQuest has a variety of games. The best ones for the team building are Stolen IQ and Humanity 2.0
Team building with virtual or hybrid escape rooms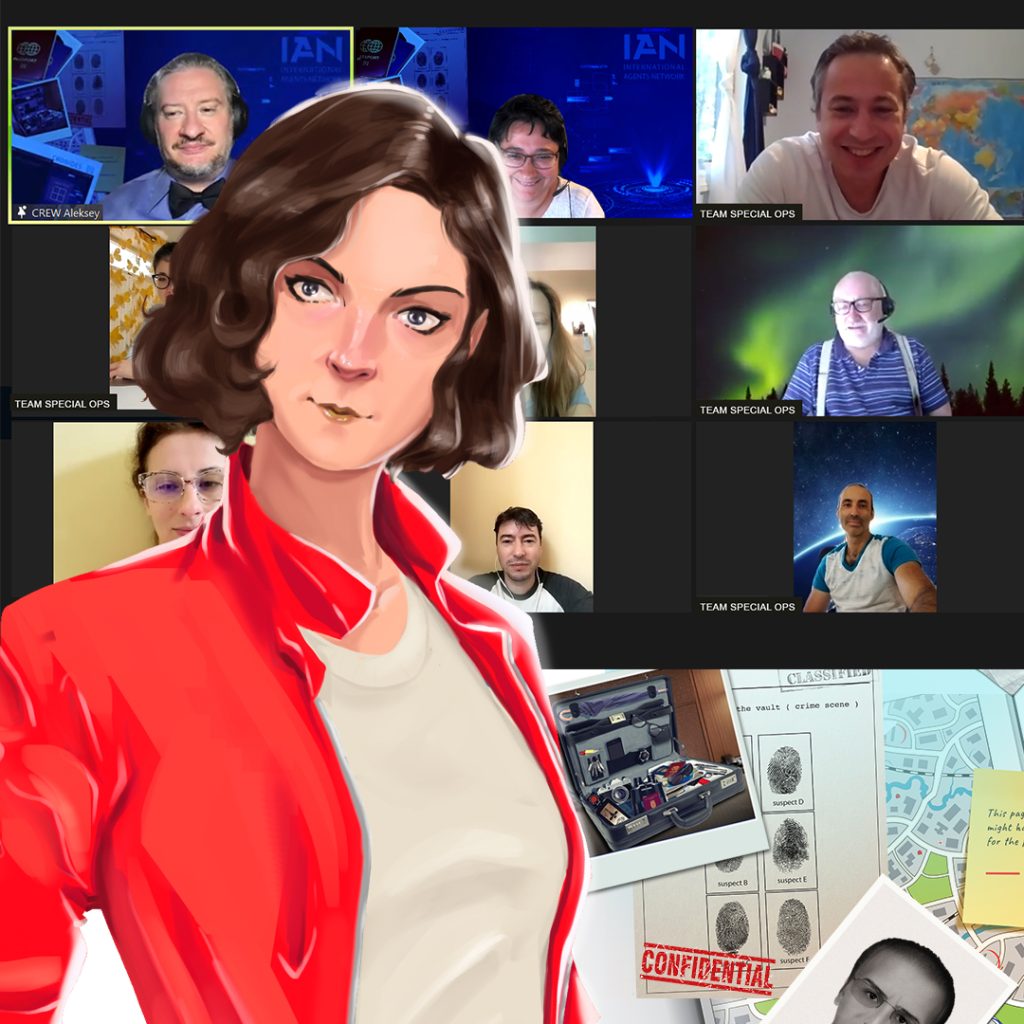 For fully remote or hybrid teams finding a team building activity can be a challenge. However, there are plenty of interesting escape room activities that were specifically designed with such teams in mind. Here are several great games for virtual escape room team building.
Number of players: 2 to 200
Time: 60 to 90 minutes
Price: $20 + per person
Project Avatar is a unique and unusual beast. It's not just a virtual escape room, it's a mix of a computer adventure game, escape room and a theatrical interactive experience. Your team will control a real person. There is an option to play a competitive version of this game.
One caveat is that the game is played in first-person view, if there are members of your team that are sensitive to the camera motion, the head-mounted camera might make them queasy.
Number of players: 6 to 600
Time: 60 to 90 minutes
Price: $15+ per person
Spy thriller game that brings the team closer together. Great for any size of teams. This game is available as a hybrid game – in person and virtual. Some teams can get together in the office environment, and some can be completely virtual, all teams will be able to play the same game.
It's not just the puzzle challenges, it's a coherent story and the players will be part of that story.
The game is played on an arena platform, designed specifically for virtual escape room team building. It has a real time leaderboard of all the teams. Teams can be randomly generated, or created based on your group's needs.
An actor facilitator leads the experience, helps the teams if they are stuck and makes sure everybody has a great experience.
TeamBuilding
Number of players: 10 to 1,000
Time: 45 to 90 minutes
Price: $50 + per person
They offer several escape room-like games that can be played over Zoom. For every virtual escape room team building event they provide a host for the game.
Escape Everest: Quest for the Yeti.
The core activity is collaborative puzzle solving and competition between the small teams.
These virtual escape room team building games are played via Zoom and through an app.
If you are looking for a customized event, Wildly Different can custom-build a challenge just for your company.
TeamBonding
Number of players: 20 to 1,000
Time: 60 to 90 minutes
Sherlock Holmes – Murder Mystery Escape Room
Team Bonding provides a virtual escape room team building experience with a new story of Sherlock Holmes. The game is played via a web browser and Zoom.
Team building workshop
Playing well in escape rooms depends a lot on the problem-solving and communication skills of the team. Thinking about a puzzle from different angles, voicing many theories, and finding a way of working together on something to make it easier, all of the above is usually a natural part of doing an escape room. That's why playing an escape room game is a naturally great activity for team building.
Team building events that focus on creativity offer an additional benefit to the teams. Creativity is important in driving innovation in all aspects of the business world. Yet, not that many team building activities focus on creative projects. When management supports creative thinking it increases creativity in employees. The importance of such support was researched by business and management professors Nora Madjar, Greg Oldham and Micahel Pratt.
A great bonding experience that fosters creativity for any team is when a team is creating something together. Having an escape room workshop can be the ultimate team bonding experience where problem-solving is combined with a creative process.
Escape room workshop works for your team if you have at least half a day to dedicate to this experience. In the first part of the event the teams create the games, and in the second part the teams play each other's games. The beauty of escape room workshop is that it allows teams to be creative and doesn't require any technical knowledge to create games. However, it's best if you have one or two people in your company who played several escape games and will be able to help organize this event.
How to structure an escape room workshop
Provide the team with a quick overview of what makes up an escape room game
Prove the tools for creating escape room games.
Prove a list of online resources.
Allocate time for testing.
Escape Rooms Faceoff
A quick overview of what makes up an escape room game
At the beginning of the event, the leader should spend a little bit of time explaining how to make an escape room by going over the key elements that need to be in an escape room.
Escape room game is a themed series of puzzles that need to be solved in order to achieve the final goal. Each escape room needs a story, which answers the following questions: Who? Why? What?
Who are the players? Why are they there? What is the players' goal?
The plan for creating an escape room during the workshop can be as follows:
Come up with the story which answers the Who? Why? What? questions.
Come up with 3 to 5 sequential puzzles, which fit the story.
Come up with clues for each of the puzzles.
Test the game and make adjustments.
Play each other's games.
Ideally, each team should have 3 to 6 participants. To jump start the process each team can be randomly assigned a theme, so it would be faster for them to start thinking about the story and the puzzles.
Escape Room Themes
Themes can be generic or more specific. An interesting approach is to give all teams the same theme and see how different all the escape rooms will turn out at the end of the workshop.
Examples of themes
General themes: Adventure, Science Fiction, Pirates, Spies, Mystery.
Specific themes: Mysterious Tomb, Escape from Mars, Find a Pirate's Treasure, Prevent World War III, Find a Magical Goblet, Escape the Office.
Different types of puzzles
Teams should keep in mind that it's best to include a variety of puzzles. Some can be logic puzzles, some word puzzles, some visual puzzles, maybe a couple of different cipher puzzles. The answer to each puzzle should lead to the clue for the next puzzle.
Gating of puzzles
The clue to the next puzzle can be inside a locked box. It can be a person, acting as a computer or as an ancient being guarding the treasure. It can be an envelope which is given to the team by the game guide once the correct answer is delivered. In short, the gating depends on the tools the teams are provided with and on the creativity of the puzzle makers.
Clues for the puzzles
Clues are little bits of information that give players an idea of how to solve a puzzle. It's important to remember that players cannot read the minds of the puzzle creators. That's why clues are there, to guide the players to the next puzzle. A clue can be written or attached to the box that it opens, but it doesn't have to be. Possibly some visual indication can be on the box that hints which puzzle will open it.
In a way, clues are like obscure directions that should lead the players to the next puzzle.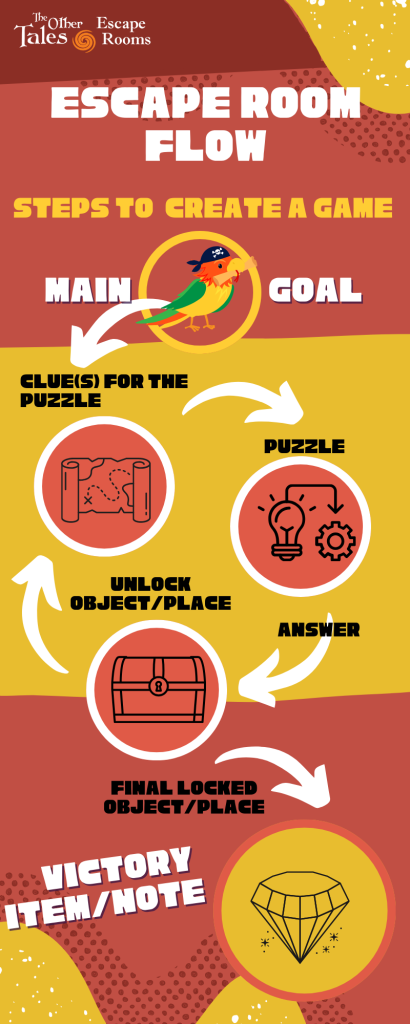 Providing the tools
Fun and engaging escape rooms can be created with just pen and paper, however, it will be more exciting for the team if some physical materials are provided. It doesn't have to be expensive, but even providing a couple of boxes and locks can make the final product look and feel like a real escape room game.
Besides regular office supplies such as pens, paper, markers, index cards, clear plastic sheets and envelopes, getting several specific to escape rooms elements would help the event to be a success.
Blacklight flashlights and invisible markers
Locks (word combinations and number combinations)
Boxes/containers with hasps or with combination locks
Providing online resources
Besides physical tools, it's important to provide teams with online resources for creating puzzles.
Qat – online tool that searches for words based on a pattern
Puzzle ideas – a list with examples of puzzle ideas
A fun addition can be providing teams with theme related supplies. It can be an ancient map, a modern map, sheet music, candles, etc. It would be beneficial for teams to have access to a printer, so they can print any needed materials.
Testing
Each team should do the initial testing of the game. The team needs to make sure that the game flow is correct, that all the clues are in place, and all the codes open up the correct locks. The secondary testing before the Escape Room Face Off is to test out a game on someone who wasn't part of the creation process. It can be a member from a different team (who is not going to play the final version), or someone who is not part of the escape room making.
In the second round of testing it's important to take a look at the difficulty of the puzzles. Do the clues make sense? Should the puzzles be made easier? (Most likely, the answer to this would be "yes"). This is also a great time to think of some hints that the teams might need, if they will get stuck. After the teams make the final adjustments the games are ready for the Face Off.
Escape Rooms Face Off
When all teams are ready, or when the allocated time runs out each team begins playing each other games. All teams should have the same amount of time to play the games. If at the end of that time the players don't finish the games, the designer teams can show how the game ends.
Then we recommend doing incognito voting in several categories.
Design Awards:
Best story
Best puzzles
Funniest game
Gameplay Awards:
The fastest team with a minimum number of hints
Escape room workshop is a great team building activity for any organization. It can be a cross-departmental activity, or with a focus on fostering internal department interactions. To better control the time of this event, limit the number of puzzles. To tie the event closer to the company, the themes chosen can be related to the company's business. In short, if you have an option to have half a day or a full day team building event, escape room workshop is an amazing thing to try.
Team building with a real-life escape room
Team building with real-life escape rooms is a rewarding experience. It used to be that there were only a handful of games available to play. Nowadays, as the industry is growing there are a lot of choices. Below we'll explain how to select the game that works for your team building event.
Size of the teams
Be prepared to be split up into smaller teams. In fact, if you have a large group, ask for it when making a booking. Escape room games work best for team building when the groups are between 6 and 10 people. If you have a larger team, you can split up into several groups and play different games at the same time. Be wary of the escape room facilities that say they can have more than 12 people play the same game. You want to make sure there is enough to do for everybody, and people won't be just standing around and watching other people play.
Don't hesitate to call the facility and see if they can run multiple games at the same time for your large group. Often, they will be able to do it.
Private games teams
Always check if the games are private or public. Some escape room facilities have public games and it means other people can be added to your group. Select a facility that has private games only, or a place where you have an opportunity to make your game private. You want the focus to be on your team only.
Difficulty Level and Availability of Hints
Ask before booking about availability of hints during the game. Don't select a game facility if it practices giving a time penalty for asking for a hint. In general, stay away from games which brag about low escape rate. Low escape rate often means that the game wasn't well designed and is not a good fit for a team building activity. You want a game to be challenging, but doable and fair.
Check Reviews
Checking reviews of an escape room center before booking is always a good idea. However, don't just look at Google and Yelp reviews. The reviews on Google are great to get a sense of customer service, however to really understand the quality of the games it's good to check out reviews on Morty.App. Reviews on Morty.App are often made by enthusiasts of escape rooms, and give a better picture about puzzles, story and overall experience. For more in depth reviews you can also check REA (Room Escape Artist).
Place and Time for reflection
Set aside some time after the event so the team can meet and discuss the experience. If you are thinking of having a dinner and an escape room, it's better to schedule the dinner after the game. The team just had a new and unusual experience, there is a lot to discuss. It's interesting to hear about everybody's point of view. Here are some questions that might help you facilitate the discussion.
How did you feel during the game?
Did you feel like you split up the work?
Did people take on any roles? Which ones?
In terms of working as a team, would you do anything differently next time?
When are we scheduling another escape room team building? 🙂
Conclusion
I hope this article gave you some ideas on how to have a great team building event with escape rooms. For your next team building select one item from this list and give it a try. If you follow the above recommendations, I guarantee, your event will be fun, memorable, and helpful for the team's dynamics. Let me know how it goes.